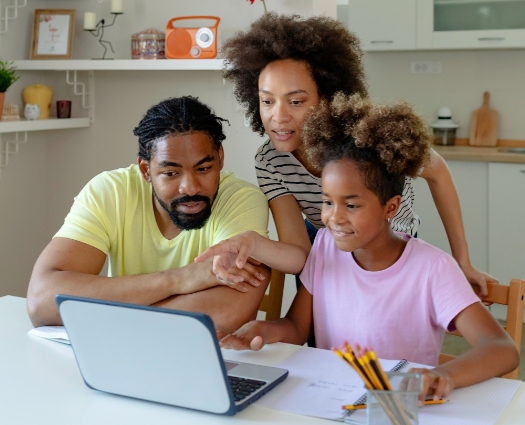 The way our communities learn is changing faster than ever.
Harmony brings evidence-based social and emotional learning (SEL) resources to educators, students, and families at no cost. Our innovative online tools support SEL as educators and families navigate distance learning, modified classroom protocols, and hybrid classes. Provide inclusive, whole-child education with Harmony.
Step-by-Step Lesson Plans

User-Friendly Implementation

Adaptable Teaching Tools
CASEL-Aligned Curriculum

Online & Printer-Friendly
Each pathway makes social and emotional learning approachable and accessible for every school community and home school setting with tools that adapt to virtual, in-person, and hybrid classrooms. Expand the tabs below to explore Harmony's remote learning resources.
Harmony Distance Learning Resource
SEL Support for Educators in Multiple Learning Environments
Strengthen peer relationships and academic engagement with Harmony's Everyday Practices, lessons, and activities optimized for immediate use in any school setting.
Access these materials and optimize distance learning in your school:
Planning materials
10-Day Easy Start Resource with Everyday Practices
Flexible lesson plans for grades Pre-K to 6th
Family support resources
Professional development opportunities
When planning Distant Learning with Harmony, you have all the resources you need to:

Engage students in whole-child education
Develop healthy relationships

Enhance distance and hybrid learning

Build strong home-school connections
Harmony at Home
Learning Tools & SEL for Parents, Caregivers, & Families
Harmony at Home helps parents, caregivers, and families practice vital social and emotional skills with students in grades Pre-K to 6th. Our tools and resources support families who are learning at home or in modified school settings with the evidence-based strategies that Harmony has developed for classroom teachers.
Get started with user-friendly support for SEL at home:
Introduction to SEL
Harmony Everyday Practices
Adapted grade-specific lessons
Access to live implementation training webinars
Recommended on-demand webinars
Additional resources for families
Access SEL support that empowers families who are schooling at home to:

Facilitate pre-planned lessons
Enjoy Harmony activities as a family

Build strong relationships at home

Access Harmony Professional Learning

Practice self-care for all ages
Get Started
Bring Harmony to your classroom, home, or remote setting today!