Research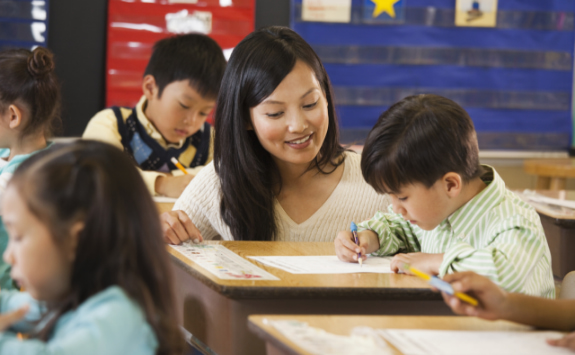 An Evidence-Based Approach to SEL
For more than a decade, Harmony has been a leader in social and emotional learning. Since its inception in 2008, researchers with expertise in social and emotional development have conducted studies to develop and understand the effects of Harmony.
Schools, educators, out-of-school providers, and families trust Harmony to deliver evidence-based, results-driven resources informed by timely and thorough SEL research. As the fastest-growing SEL provider in the country, our program continues to undergo development, evaluation, and improvement by academic experts in education.
Read Our Latest Research on SEL Strategies and Practices
Harmony is driven by ongoing research and continuous improvement to support the evolving needs of students and educators. We want educators to have access and input to the latest insights from our research in social and emotional learning (SEL). Download and share research-to-practice briefs and reports for teachers, out-of-school providers, program administrators, and principals below.
Find Out How Teachers Are Using Harmony
We partnered with the Center for Research and Reform in Education at Johns Hopkins University to find out what Harmony educators are saying about the program.
A group of 999 teachers, school counselors, instructional coaches, SEL learning specialists, speech-language pathologists, and site coordinators reflected on their reactions to Harmony, perceived impacts on students' competencies, and how often they used Harmony resources. Read the full report.
New Research Suggests Consistent Implementation Into Year Two Leads to SEL Success
Ever wonder how consistently implementing SEL across multiple years can influence students as they learn and grow? Read this brief and build your long-term SEL plan with research from real-life Harmony Showcase schools. Read more.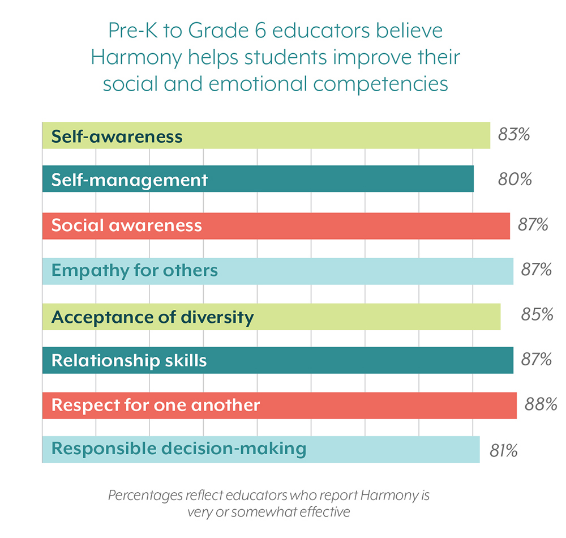 ---
Evidence-Based

Peer-Reviewed

Results-Driven
Getting Started With Harmony:
Best Practices for Teachers and Practitioners
Supercharge your SEL practice with research-driven best practices from Harmony and Johns Hopkins University and learn how Harmony supports your SEL goals. Read more.
Best Practices for School Leaders
Harmony has partnered with Johns Hopkins University to find research-based solutions and practices that school leaders and principals can activate for successful SEL integration and outcomes. Find out how you can address the unique challenges of leading schoolwide SEL. Read more.
Evidence in Support of Harmony
Harmony is research-based, and it has been implemented with a broad range of students, including English language learners and traditionally underrepresented populations. Since the program's inception in 2008, researchers have conducted rigorous evaluations of Harmony components – providing sufficient evidence to be named a CASEL SELect program.
SEL studies suggest that students participating in the relationship-building activities of Harmony benefit both socially and academically. In these studies, Harmony components have demonstrated positive impacts on children's peer relationships, academic achievement, and social and emotional development.
Across research studies, students who participated in Harmony:

Liked school more
Felt a greater connection and identification with their class

Felt a greater sense of inclusion

Had significantly more diverse friends

Were more likely to engage in play with a wider array of peers
Improved writing and math performance

Decreased perceived aggression by teachers
Learn more about implementing the Harmony Curriculum.